The Beautiful Greek islands
The Greek islands are renowned for their beauty. Think of the Greek islands and immediately images of blue seas, blue skies and summer sunshine spring to mind. The Greek islands are popular with foreigners and Greeks alike. Due to this popularity these islands can get very busy during the peak summer period so it makes sense to book ahead for the best choice of accommodation. The largest of the Greek islands is Crete.

A number of chains make up the Greek islands and there are 6000 islands in total. Some people enjoy island hopping and take yacht holidays to explore a number of islands. Many of the standard ferries from Athens though lend themselves to island hopping as most have an itinerary that involves stopping off at a number of islands. Check details with the ferry companies for more information.

The different chains that make up the Greek islands include:

The Cyclades: Islands within the Cyclades include the famous island of Santorini, Mykonos, Amorgos, Paros, Ios, Tinos, Antiparos, Sifnos, Kithnos, Milos, Kimilos, Kea, Anafi, Sikinos, Syros, Folegandros, Serifos, Andros and Naxos. Many like to visit the fascinating island of Delos from Mykonos, it is not possible to stay on this uninhabited island though.

The Dodecanese: The islands most frequented by tourists in the Dodecanese islands are the larger islands, which include Kos and Rhodes. Other islands within the Dodecanese islands include Agathonisi, Kassos, Halki, Kalymnos, Symi, Giali, Arki, Tilos, Marathos, Leros, Pserimos, Nisiros, Astipalea, Prassonisi, Kasterlorizo and the small island of Ro. Uninhabited islands include Alimia and Saria is nigh on uninhabited.

The Ionian islands: Of all the Ionian islands the most popular for British visitors has to be the large island of Corfu, closely followed by the beautiful green island of Kefalonia. Other Ionian islands include Ithaki, Lefkas, Othonoi, Mathraki. The Strofades islets belong to the Greek Orthodox church and are a spiritual sanctuary, as well as a peaceful place for birds and wildlife.

The North Aegean islands: these islands include some lesser known islands such as Lesvos and Samos.

The Sporades islands: Allonissos, Kyra Panagia, Skatzoura, Skiathos, Skyros, Skopelos. The uninhabited island of Peristera is also within the Sporades.

The Saronic islands: These islands are less well known than many others but some you may have heard of include Poros and Spetses.
Special offer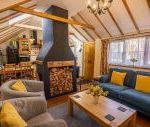 Usually 895 GBP, Special Offer Price 795 GBP
Read more info on offer availability