Tourist Information about Greece
Language
Greek, although most educated Greeks speak English very well, especially in Athens. It is recommended that you take a phrase book.
Currency
Euro
Airports
15 international airports in Greece including Athens, Thessaloniki and Patras on the mainland, along with a number of island airports. Click for more information on travelling to and around Greece.
Climate
The temperatures of Greece vary from place to place. The mountainous areas of Greece for example have different micro climates compared to other parts of Greece. As a general rule though Greece has a typically Meditteranean climate with hot summers with little rain and mild winters with some rainfall. Find out more about the weather in Athens.
Famous Greek sights:

Greece has a wealth of fascinating ancient history (and current some would argue) and has a richness when it comes to fascinating ancient historical sites and remains. Greece also has a richness in terms of ancient mythology which have inspired many a film and book. Many of these myths centre around ancient Greek sites. Some of the main Greek archeological sites include:

Temple of Olympian Zeus in Athens.
The fascinating unspoilt Greek island of Delos (also known as Dilos) with its rich wildlife and extensive ruins.
The ancient and fascinating site of Delphi with its magnificent views and location.
Olympia, the site of the first Olympic games.

Other Noteworthy Places in Greece:

Meteora in Thessaly is part of Greece that has to be seen to be believed. The amazing unusual high rock formations of Meteora which seem almost other worldly are so noteworthy that they have appeared in iconic films such as James Bond. There are a number of fascinating monasteries to visit in this incredible area. It is little known that bus tours operate to Meteora in Greece from Athens. These trips typically involve an overnight stay of one or two nights so you have some time to explore the area and a long 5 or 6 hour bus trip each way there and back.

The Greek Islands: The islands of Greece deserve a special mention as each is special in its own way. Whether it is the dramatic rocky island of Santorini with its magnificent high cliffs and associated links with the mythological island of Atlantis, the pretty windmills of Mykonos, the lush greenery of Kefalonia or the fascinating historical sights of Rhodes, each island offers something different and fascinating.

Famous Greek produce includes:
Olives (you may see many olive trees in the Greek countryside), a number of quality olive related products are produced in Greece, Ouzo, a Greek aniseed flavoured aperitif.
Special offer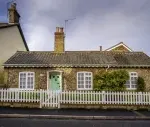 Originally 995 GBP, Now 895 GBP
Find out more about available dates